Le serendipity (l'art du heureux hasard) est une technique qui permet de réaliser ses propres fonds de page ou embellissements. Cette technique est idéale pour le scrapbooking ou les "art journal".
With the serendipity technique you can make your own page bottom or embellishments. This technique is ideal for scrapbooking projects or art journals.
1) choisissez des papier assortis unis et imprimés (c'est le moment d'utiliser vos chutes de papier), et une feuille de fond (ou une découpe).
Choose matching papers united or printed (it is the moment to use your falls of paper), and a sheet of paper (or a die cut).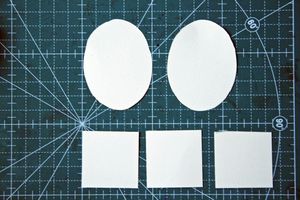 2) déchirer les papiers en petits morceaux inégaux, en veillant à ne pas mélanger les tas.
Tear the papers in small irregular pieces, by watching not to mix the heaps.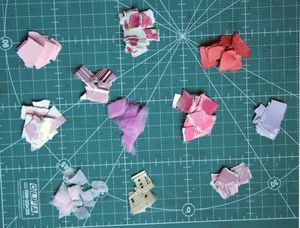 3) coller les morceaux d'une même couleur en les répartissant sur la feuille de fond. Continuer avec une autre teinte. Les papiers peuvent se chevaucher ou laisser le fond apparaître. J'ai utilisé une colle liquide blanche qui devient transparente au séchage.
Stick the pieces of the same color by distributing them on the bottom sheet. Continue with another heap. You can overlap the papers or let the bottom appear. I used a white liquid glue which becomes transparent in the drying.
4) Une fois la feuille de fond (ou la découpe) entièrement recouverte, retournez-la et découpez ce qui dépasse.
Once the bottom sheet (or the die cut) completely covered, turn it and cut what exceeds.
Voilà, vous avez maintenant de beaux embellissements personnalisés ou une belle page de fond.
You now have nice original embellishment or bottom page.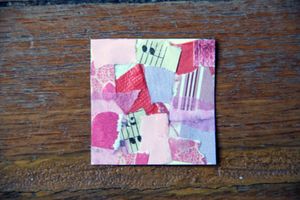 Et voici comment je les ai utilisés dans mon journal de printemps. And here is the page of my spring journal where I used them.