18 mai 2013
Bonjour,

Aujourd'hui, je vais vous parler de mon journal de l'année 2013, inspiré du project life. Vous vous souvenez peut-être qu'en 2011, j'avais commencé un album 365. Las, je l'ai laissé en friche au milieu de l'année : les photos sont développées, mais ne sont pas collées. Fin 2012, je me suis longuement interrogée sur ce que je voulais faire pour retracer mon année 2013. Et voici le résultat. Le support est un classeur "handbook" de studio calico, qu'il faut encore que je décore.
Today, let's talk about my everyday journal for 2013, inspired by project life. You may remember that I made an album 365 for 2011. I should say I tried to make ... because I stopped in the middle of the year. Photos are printed but not glued. At the end of 2012, I thought a lot on what to do for 2013. And here is the result. I've chosen a handbook from studio calico. I still have to decorate the cover.
J'aime beaucoup le concept du project life qui permet de scrapper différemment, tant sur le fond car on met des photos du quotidien, que sur la forme. La plupart des adeptes ont opté pour le système de pochettes dans lesquelles on glisse des cartes de 10 x 15 cms ou de 7,5 x 10 cms. Deux choses ne me plaisaient pas dans ce système. Premièrement, il est contraignant car il impose une taille précise pour les photos et embellissements. Deuxièmement, j'avais envie d'un projet très interactif, tactile, où l'on pouvait soulever des parties pour en découvrir d'autres, ce que les pochettes ne permettent pas.
Du coup, j'ai choisi un format différent pour faire quelque chose à mi-chemin entre l'art journal et le project life. Mon journal mesure 15 x 21 cms, c'est donc un format A5. Sur ma page d'introduction, je parle de mon absence de résolutions et du choix de "twinkle" comme leitmotiv pour mon année 2013.
I like the project life concept because it allows you to scrap in a different way, with everyday pictures. Most of the project lifers kept the pocket system with 4 x 6 or 3 x 4 journaling cards. I didn't like the idea of pockets, because you have, at least for each page, to stick to one design. I also wanted something more interactive, with hiden spots. So, I've chosen to make something between an art journal and a project life. My journal is 6 x 8. In my intro page, I talk about that I don't have any resolution for 2013 but "one single word". (see Ali Edwards)
Je consacre généralement une double page à chaque semaine, mais peux en ajouter d'autres si j'ai des évènements à mettre en lumière. Je peux aussi, en fonction de mes besoins ajouter des inserts. Ici, une petite pochette avec écrit "meilleurs voeux", dans laquelle j'ai glissé une copie des textos reçus pour le nouvel an.
I usually make a two pages week spread. I can add inserts or make another two pages if I want to highlight some events. Here in the small paper bag written "best wishes" I put a copy of the SMS I received on new year's eve.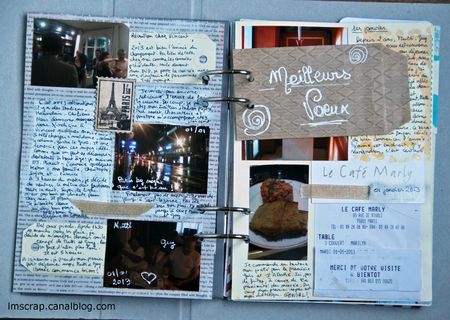 Pour la première semaine, j'ai inséré une carte de format 10 x 15 qui fait de la publicité pour le club de gym auquel je me suis réinscrite cette semaine-là. Au recto, j'ai collé un article trouvé dans le journal sur le temps consacré en moyenne à internet.
For the first week, I inserted a 4 x 6 add card from my sports club. On the back side, I glued a newspaper article about the average time spent on the internet.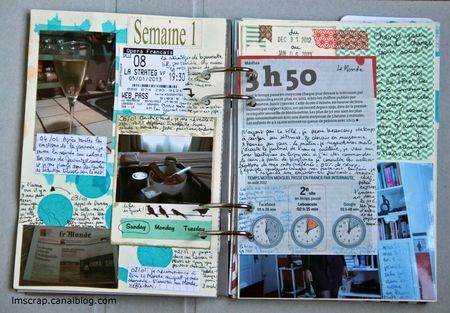 Cette semaine-là, j'ai fait également une double page pour garder un souvenir de mon rendez-vous du 4 janvier. Tout en bleu, pour aller avec ma robe, et aussi parce que j'avais en tête cette chanson "dream in blue". Bon, ça s'est mué en blues depuis, mais ce n'est pas grave. C'était un très chouette moment.
For this first week, I also made two pages about a date on the 4th of january I want to remember even if my dreams did not come true. My page is blue like the dress I wore on that day.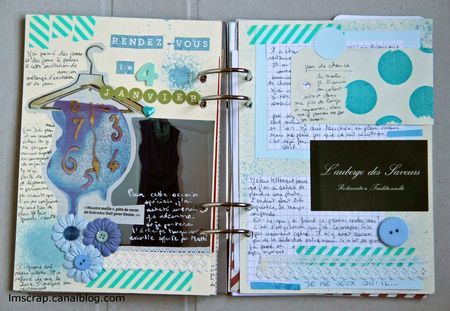 Le plus d'un tel format, c'est que les pages sont rapides et faciles à faire. On peut totalement laisser s'exprimer sa créativité et utiliser n'importe quel format de photos, d'embellissements ou de souvenirs. En particulier, c'est très simple d'y mettre des articles de journaux. Le moins, c'est que les pages sont vite remplies et on est limité en photos, sauf à multiplier le nombre de pages consacrées à chaque semaine. Ce que je ne souhaite pas pour ne pas me retrouver avec 10 classeurs pleins à la fin de l'année. J'y parle de ce que je fais, ce que je vois par exemple au cinéma, et surtout ce que je ressens. Voici les semaines 2 et 3.

The advantage of this format is that the pages are simple and fast to make. You can be really creative, using mixed media techniques and different sizes of pictures and embellishment. It is really easy to keep ephemeras and insert newspaper articles. The inconvenient is that the pages are small so you are limited in place, if you don't want to have dozen of albums at the end of the year. In this journal, I talk about what I do, what I see, for instance movies and what I feel. Here is week 2 and week 3 :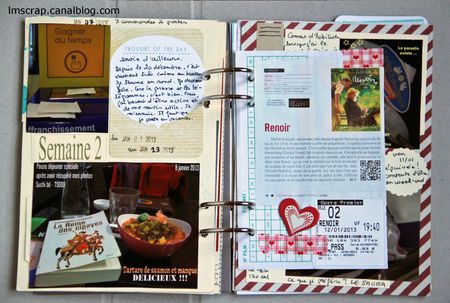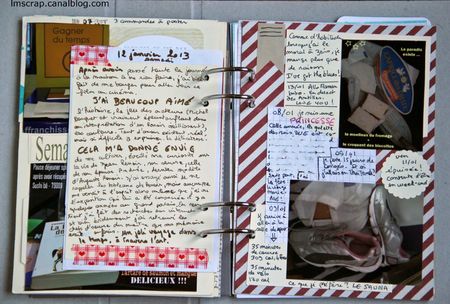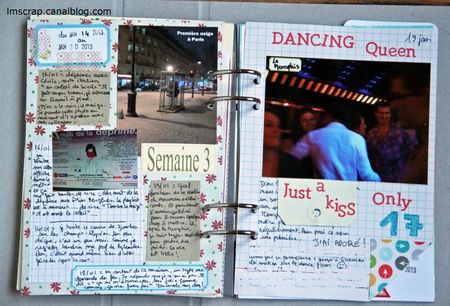 J'aime beaucoup ce journal de l'année 2013. Mais comme je continuais à baver devant les merveilles que certaines pouvaient faire avec leurs project life "traditionnel" sous forme de pochettes, j'ai décidé de m'y mettre aussi. Du coup, j'aurai deux projets pour 2013. Croyez-moi, on peut tout-à-fait commencer en cours d'année. Je vous le montre bientôt.

I do like this journal of my year 2013. But, as I was seeing awesome pages made with the pockets albums, I wanted to give a try to this "traditionnal" way to make project life. So I have two projects for 2013. You can decide to begin whenever you want. I will show you soon.
16 mai 2013
Hello,
Les températures sont fraîches aujourd'hui à Paris, mais que diriez-vous d'un petit tour sur un marché en plein air ? Je vous emmène à Barcelos, dans le nord du Portugal.
It is cold here in Paris today. But, let's go for a tour on an open air market. We're going to Barcelos, in the north of Portugal.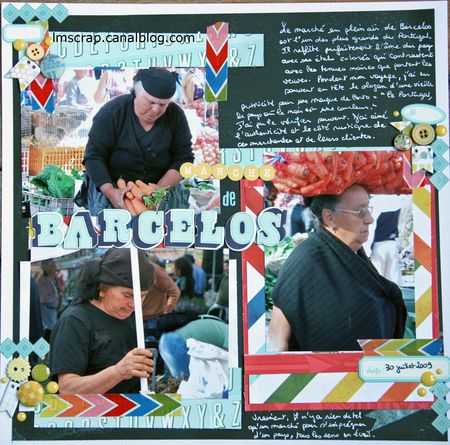 Une page où j'ai réussi à scrapper 3 photos de taille standard 10 x 15, pas mal non ? Haute en couleur, malgré l'uniformité du noir des tenues de ces marchandes et de leur cliente. J'aime bien ce papier de fond qui était dans mon kit studio calico du mois dernier et qui donne un effet tableau noir, renforcé par l'utilisation d'un stylo blanc.
I managed to scrap 3 4x6 photos on this page. Colorful despite the black dresses of the sellers and their client. I like this paper that was included in my last studio calico kit. It gives a chalkboard effect, reinforced by the use of a white gel pen.

Demain, je vous montre enfin mon journal de l'année 2013, une sorte de project life. Passez une bonne journée !
Tomorrow, you will finally see my journal for 2013, a sort of project life. Have a nice day !
15 mai 2013
Bonjour,
Aujourd'hui, je vous montre une page sur la vallée du Douro, un endroit magique près de Porto, au Portugal, avec des vignes en escalier, qui permettent de produire le fameux vin de Porto, si prisé des Anglais. J'aime bien aussi, j'ai pu tester le blanc, le rouge et le vieux, le tout avec modération tout de même car cela peut monter vite en alcool.
Today, I show you a page about the Douro's valley, a beautiful place near Porto, in Portugal, with vineyards, where the famous Porto's wine is made. I liked this beverage. I tasted the white, the red and the tawny (minimum 10 years old). Not at the same time and always in very small quantities due to the amount of alcohol.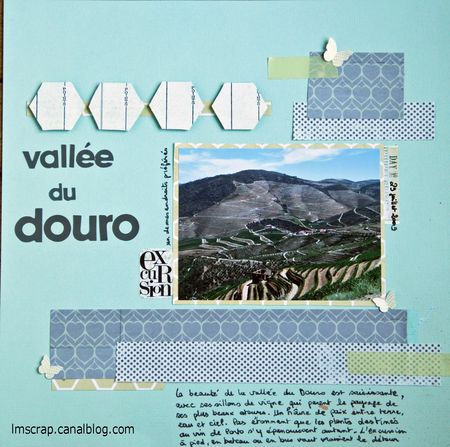 Le Douro est un fleuve qui prend sa source en Espagne, traverse le Portugal pour se jeter dans l'océan atlantique, près de Porto. Il y a plusieurs moyens de sillonner ces paysages magnifiques : en bateau, en bus, ou à pied. J'ai eu la chance de faire les trois sous un soleil radieux. Quel que soit le point de vue, on en prend plein les yeux. Un vrai hâvre de paix. Si vous êtes dans le coin, n'hésitez pas à faire cette excursion. Le travail des vignes, à l'endroit que j'ai visité, se faisait à la main.
The Douro is a river, beginning in Spain, crossing Portugal and then ending into the Atlantic ocean near Porto. There are different means to visit the valley : by bus, by foot or by boat. I was lucky enough to make the three on the same day. The wheather was splendid. The landscape is unforgettable. So quiet. If you are nearby, don't miss this trip. In the place I visited the farm workers worked whithout any machine. Everything was handmade, a tough job.
Une mise en page toute simple, mais que j'aime bien. A demain.
A clean and simple layout, that I like. See you tomorrow.
14 mai 2013
Coucou,

Que direz-vous d'un petit coup d'oeil dans mon carnet d'exercices ?
How about a sneak into my exercices journal ?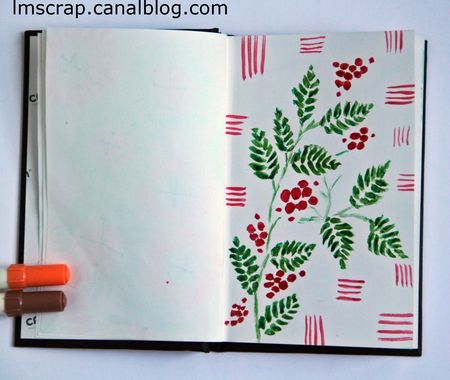 Je m'en sers pour faire des essais de combinaisons de couleurs.
I use it for trying colors combos.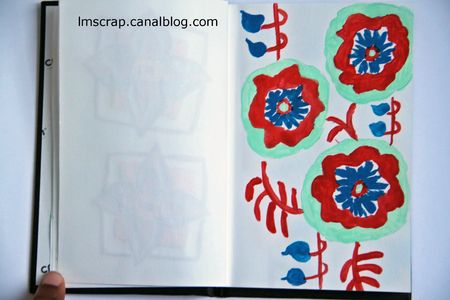 Le plus souvent, j'utilise mes aquarelles. Cela me permet de m'entraîner pour de futures pages de carnets de voyages. Je dessine et peins alors selon des modèles trouvés dans des livres ou des magazines.
Most of the time, I use watercolors. I 'm training for my future travel journals. I draw and paint from models find in books or magazines.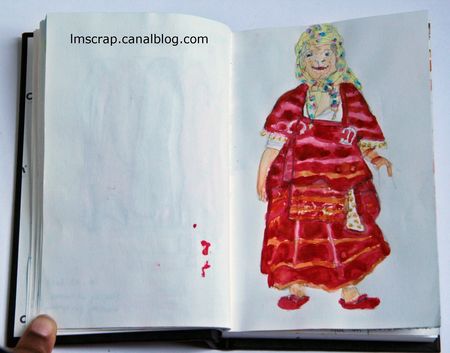 Il m'arrive aussi de croquer sur le vif. Ici, chez moi.
I also paint real life. Here is a view of my home.
Et là, dans un jardin de Paris.
And there, in a garden in Paris.
Je fais aussi certaines fois de simples dessins au crayon. Là, je me suis inspirée du travail de Degas sur ses danseuses. Vous connaissez sûrement.
Sometimes, I just draw. In this page, I was inspired by Degas. You know for sure his paintings about dancers.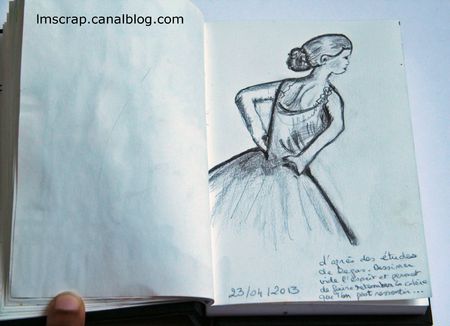 Le carnet est de petite taille : 10 cms x 15 cms. Comme cela, je l'ai toujours avec moi dans mon sac, avec du matériel de base dont mes aquarelles.
This journal is small : about 4 x 6 inches. So I can always have it with me in my bag, with the material such as my watercolor set.
J'adore faire ces dessins !
Just love to make these pages !
13 mai 2013
Bonjour,
J'espère que vous passez un bon début de semaine. Voici une nouvelle page avec deux photos prises à Coimbra, au Portugal. la photo de gauche représente une des entrées de l'université, celle de droite a été prise à l'intérieur de la cathédrale. Je trouve qu'elle s'associent de façon très complémentaire, ce qui de prime abord, ne sauterait pas aux yeux. J'avais même cru en les prenant dans ma pile de photos qu'il s'agissait du même endroit avant de les distinguer en regardant de plus près. Je suis contente d'avoir réussi à scrapper deux grandes photos sur une même page, ce que je ne fais que trop rarement.
Hope you're having a nice beginning of the week. today, here is a layout with two pictures taken in Coimbra, in Portugal. On the left, you see one of the entrance of the university. On the right, it is a row of sculptures inside the cathedral. I find that they make a great combinaison, even if I had not thought about this earlier. When I choose them in my stash I thought first that it was the same building. Then I realised that in fact, it was not. I'm so happy having scrapped a two-photos layout, which I rarely make.
Les sculptures sont finement ciselées et me font penser à de la dentelle, d'où le titre de ma page. J'ai repris cette idée en plaçant, à titre d'embellissement, différents morceaux de dentelle. Côté technique, un peu de modeling paste et un pochoir me permettent de créer un très joli motif en haut à gauche et en bas à droite de la page. J'ai aussi aimé empiler les papiers, dont un morceau de vellum transparent sur lequel j'ai écrit une partie de mon journaling. Finalement, une page toute simple, mais dont j'aime beaucoup le rendu.
The sculptures are so pretty, making me think about lace, therefore the title of my layout. I choose a few embellishment matching this theme, especially with the vintage lace I put on the page. I used some modeling paste and a stencil to make the pattern on the top left and below right. I liked layering, using some vellum on which I wrote a part of the journaling. At the end, the page is simple but I love it.
12 mai 2013
Bonjour,

Comme promis, me revoici avec le tutoriel et le kit du mini album que je vous ai montré hier. En fait, j'ai réalisé un second album avec les mêmes photos pour l'envoyer à mon amie Sabine, qui m'avait accompagnée lors de ce voyage à Barcelone. Voici les photos de ce second album.
As promised, I'm back today with the tutorial and the kit for the mini album I showed you yesterday. In fact, I made a second mini with the same pictures in order to send it to my friend, Sabine, who travelled with me to Barcelona. Here are the pictures of this second album.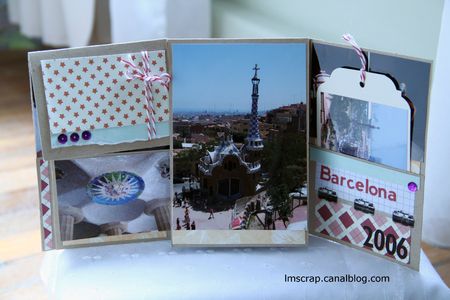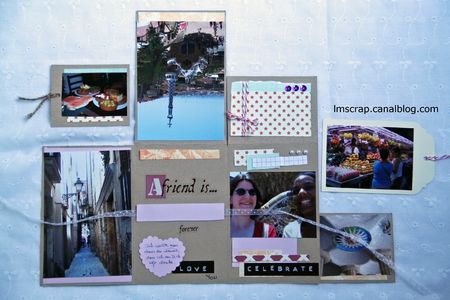 Pour faire cet album, j'ai utilisé le kit "celebrate" qui comprend tous les papiers et les embelissements Il y en a suffisamment pour faire en plus de l'album des cartes ou un autre mini album.
I made this album with the papers and embellishment of the kit "celebrate" that you can find in my shop. There is enough stuff in the kit to make also cards or another mini album.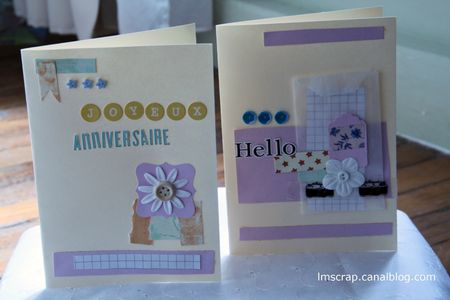 Dans ma boutique, vous pouvez trouver :
In my shop, you can find :

1) Le kit complet à 7 euros. Les frais de port sont à 4,50 euros pour la France.
The kit for 7 euros. The shipping rate is 4.5 euros for The European Union, 6.00 for the other countries.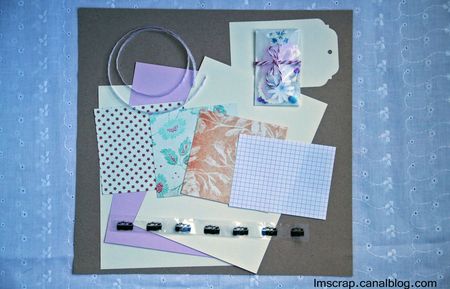 2) Le tutoriel en français, avec toutes les explications détaillées et des photos de l'album. Il s'agit d'un fichier pdf à 5 euros.
The tutorial in French, pdf file for 5 euros.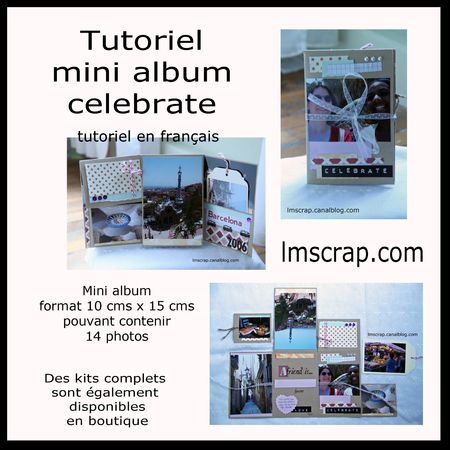 3) Le tutoriel en anglais.
The tutoriel in English, with all the explainations and images to make the mini album. It is a pdf file for 5 euros.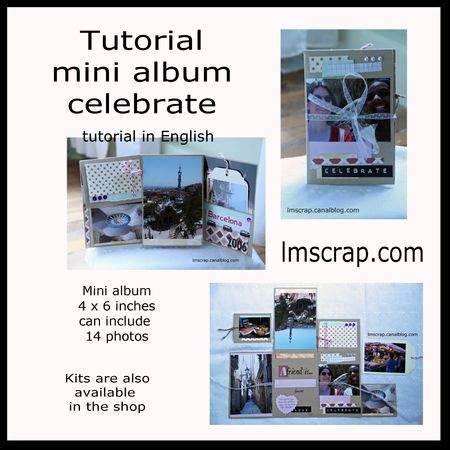 4) Le mini album déjà réalisé dans lesquel vous n'avez qu'à mettre vos photos et votre texte. Au cas où vous n'auriez pas le temps de faire l'album en entier vous même. 12 euros + frais de port
The mini album made, in which you just have to put your pictures and journaling. In case, you don't have enough time to make the entire album by yourself. 12 euros + shipping.
Comme la fête des mères approche, vous pouvez bénéficier jusqu'au 20 mai d'un petit cadeau : le tutoriel sera offert pour tout achat du kit complet. Le fichier pdf vous sera envoyé par mail.
Because, mothers day is coming, I give you a small present : you will get the tutorial for free if you buy the kit before the 20th of may. The pdf file will be sent to your e-mail address.
A bientôt pour d'autres nouveautés en boutique : des minis albums, des tutoriels et aussi des cartes journaling pour le project life.
11 mai 2013
Bonjour,
J'espère que vous allez bien. Moi, j'ai passé une super journée à Barcelone ... en scrappant. Je vous ai ramené un petit souvenir sous forme de mini album. Les photos datent de 2006, le temps passe vite. J'étais partie une semaine là-bas pour fêter mon trentième anniversaire avec ma meilleure amie, Sabine.
Hello, how are you today ? I'm fine, having spent a great scrapbooking day ... in Barcelona. I can show you a little souvenir, that is a mini album. The pictures in the album were taken in 2006, time flies. I had then spent a week visiting Barcelona and celebrating my 30th birthday with my best friend Sabine.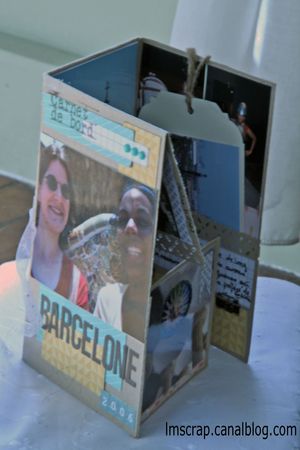 Quand on ouvre l'album on tombe sur cette page.J'ai décoré le volet en haut à gauche avec un pochoir et de la modeling paste.
This is the first page. I decorate the left upper side with a stencil and modeling paste.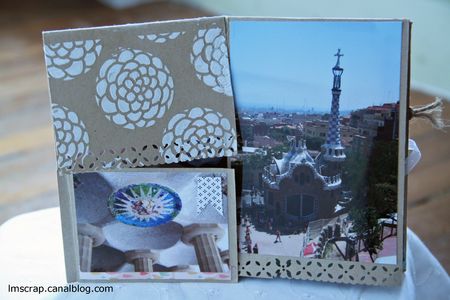 On continue à ouvrir pour tomber sur une pochette avec un tag. Then continuing to open the album, you find a pocket with a tag.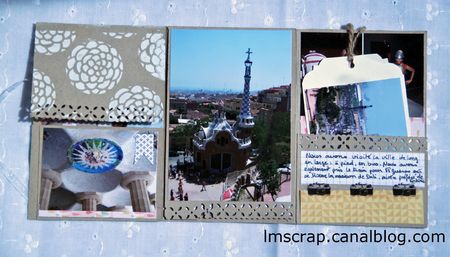 Ensuite, on ouvre vers le haut. Then open the sides up.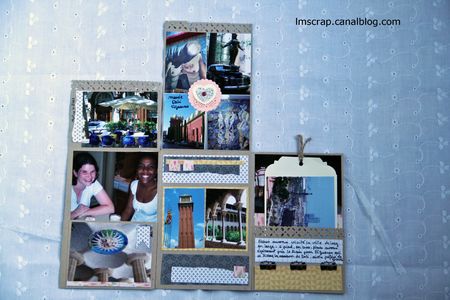 Il y a encore des surprises à découvrir : deux tags et en bas à gauche un volet qui s'ouvre pour laisser apparaître du texte.
There are more surprises : two tags and down left some journaling.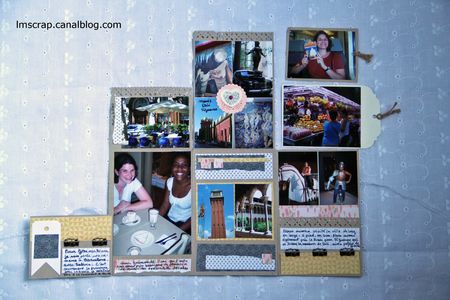 Et voici, pour être complet la vue de dos.
And finally, to end the tour, here is the back side.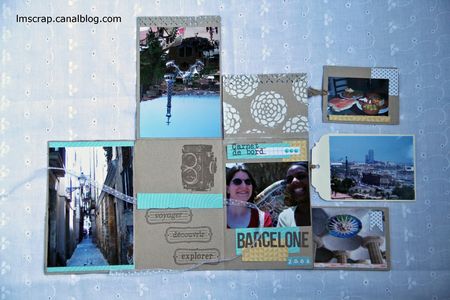 J'aime beaucoup cet album parce qu'on peut y mettre 14 photos, dont plusieurs de format 10 x 15. C'est génial pour un album de si petite taille qu'au final, on peut replier totalement et avoir avec soi dans son sac.
I love this album because I managed to put 14 photos inside. A few of them are 4 x 6. It is so great to have such a mini album with big pictures, that you can fold completely to a standard size and carry in your purse.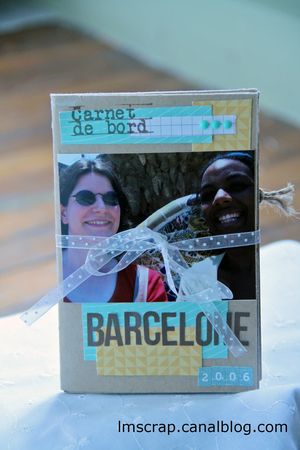 J'ai pensé que cela pourrait faire un chouette cadeau pour une amie ou pour le fête des mères. Alors, après avoir créé cet album, j'ai préparé pour vous des kits que vous pourrez acheter dans ma boutique. Les kits seront disponibles demain, avec un tutoriel en français pour que vous fassiez le même album et les deux cartes que vous voyer sur les photos ci-dessous. Revenez demain ici sur mon blog pour avoir les détails.
I thought that it could be a great gift to make for a friend or maybe for mother day. So after designing this album, I prepared some kits for you to purchase in my shop. The kits will be available tomorrow, with a tutorial in French or in English to make the same mini and the two cards that are on the pictures below. Come back here on this blog tomorrow to have all the details.
A demain ! See you tomorrow !
10 mai 2013
Bonjour,

Lorsque j'ai vu les couleurs des papiers du kit "spencer" du mois d'avril, proposé par Studio calico, j'ai tout de suite pensé à une ambiance de ville. J'ai alors cherché dans ma pile de photo développées, celle qui pourrait correspondre. Je suis tombée sur cette photo prise il y a une dizaine d'années à Francfort-sur-le -main.Une inspirtation très graphique.
When I saw the colors of the papers in the april "spencer" kit from Studio calico, I've immediately thought about a city atmosphere. I then searched into my photo pile looking for a matching one. I found this picture that was taken in Frankfurt-am-Main, ten years ago. I was inspired to make such a graphic page.
Cette ville allemande, où j'ai vécu un an, est le siège d'un important centre bancaire et financier en Europe. Ces institutions ont fait construire des gratte-ciel qui rêvent de rivaliser avec ceux de New-York. Le surnom de Francfort était donc facilement trouvé. On peut monter sur le sommet de certains de ces bâtiments et jouir d'une vue exceptionnelle sur la ville et sur son fleuve, le Main. C'est ce que j'ai eu la chance de faire avec Sabine, lorsque je suis retournée en touriste, en 2002, à Francfort. c'est la première fois que je scrappe des photos de Francfort. Je suis heureuse de me replonger dans ces souvenirs.
This German city, where I spent one year, is an important financial and banking center in Europe. These institutions built sky-scrappers whose heights concurrence New York's. Frankfurt's nickmame was then easily found. You can access the top of some of these buildings to benefic from a wonderful view upon the city and its river, the Main. I was lucky eanough to making it when I came back as a tourist in Frankfurt, in 2002, visiting my dear friend Sabine. It was the first time that I scrapped pictures of Frankfurt. I'm so glad recalling these happy times.
09 mai 2013
Hello,

Aujourd'hui, je vous montre une page qui correspond à l'un des challenges de la journée du scrapbooking, proposé par two peas in a bucket. Le thème est facile à deviner, il correspond également à l'inspiration du mois de mai sur le blog de two peas in a bucket.
Hello, I'm back today with a page for a challenge for the national scrapbooking day, hosted by two peas in a bucket. The theme is easy to guess. It is also the month's inspiration at two peas for april.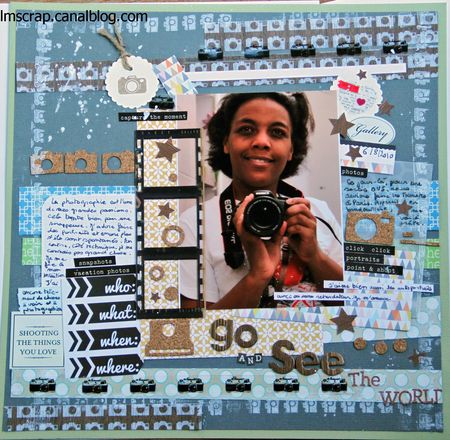 J'ai utilisé beaucoup d'embellissements qui étaient dans mon stock et qui avaient des appareils photos. Par exemple, cette étiquette festonnée que vous pouvez trouver dans ma boutique. Les appareils photos sont l'un de mes motifs préférés qui peut être utilisé sur des pages, des cartes ou des carnets de voyage. On l'a vu fleurir sur beaucoup de produits de scraobooking ces dernières années.
I used a lot of embellishments that were in my stash, and that featured ini cameras. For instance, this circle tag that you can purchase in my shop. Cameras are one of my favorite pattern. You can use them on pages, cards or road books. There've been pretty much scrapbooking products with them since a few years.

J'étais donc ravie lorsque j'ai vu que l'un des kits supplémentaires (add-on) du mois d'avril proposé par studio calico contenait cette roue qui permet de tamponner une suite d'appareils photos. Je voulais absolument l'avoir. J'avais manqué la pré-vente, étant au travail. je me suis donc levée le lendemain à 5 heures (décalage horaire oblige) pour avoir une chance de la commander. Je suis trop contente d'avoir réussi à l'obtenir.
It was so delightful to see that one studio calico's april add-on had this litlle camera stamp. I wanted it so much. I could not managed to attend the presale because I was at work. But he day after, I woke up at 5 am to get a chance to purchase it. And I was successful. So great !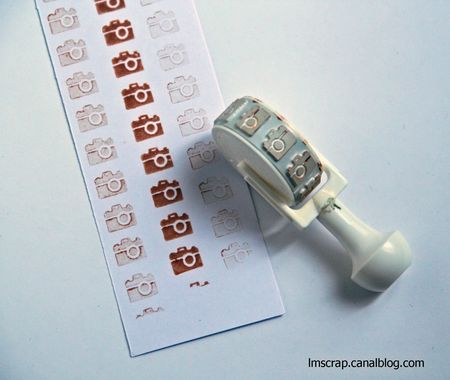 08 mai 2013
Hello,

Aujourd'hui et demain sont des jours fériés, c'est génial d'avoir cette sorte de mini week-end au milieu de la semaine. Au hasard de ma promenade sur internet, je suis tombée sur cette photo.
Today and tomorrow are days off in France. It's great to have a kind of second week-end in the middle of the week. By surfing on internet, I found this picture.
Le photographe espagnol, Eugenio Recuenco, a été inspiré par le tableau de Picasso qui se trouve à droite de l'image. J'ai décidé d'essayer moi aussi d'en tirer quelque chose. J'ai repris les couleurs : noir, jaune, bleu et vert, ainsi que les formes géométriques : ronds et triangles. C'est la combinaison idéal pour scrapper au masculin. Alors, j'ai choisi une photo de 3 garçons prise à Porto, sur le bord de mer.
The Spanish photographer, Eugenio Recuenco, was insipired by the Picasso's painting at the right of the image. I've decided to give it a try. I kept the colors : black, yellow, bleu, green and the geometrical forms : circles and triangles. It is a great combo for masculine scrapbooking pages. So I choose a picture of 3 men I took in Porto, by the sea.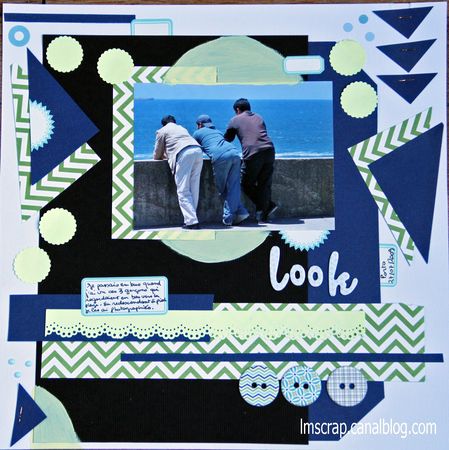 J'en ai profité aussi pour faire une petite carte d'anniversaire pour l'un des hommes de mon entourage. Il n'y en a pas vraiment beaucoup, mais je devrais pouvoir en trouver au moins un à qui envoyer cette carte.
I also made a birthday card for a man in my surondings. Not that there are so many men, but I will find at least one to whom I will send this card.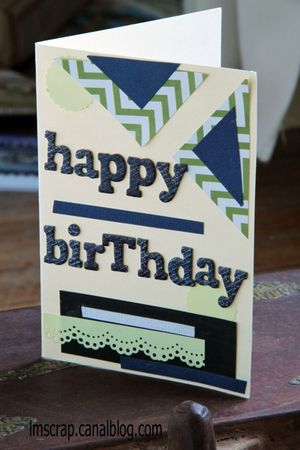 J'ai aimé me livrer à cet exercice d'inspiration, à partir du tableau d'un peintre. Je réessayerai bientôt. Bonne fin de journée !
I enjoyed making this layout and this card inspired by a painting. I will give it another try soon. Have a nice day !